Sunday, 17 May 2009
I've been in a sewing mood since I got my new machine (which I am totally in love with by the way). So have been making some nappies, some newborn ones for TBC baby and Hudson.
TBC babes - cotton terry with sewn in soaker of cotton terry and microfibre, with a snap down for umbilical cord.
Hudsons nappy, fleece outer with hidden PUL, full layer of bamboo and 5 layers of bamboo in the soakers. He's in love.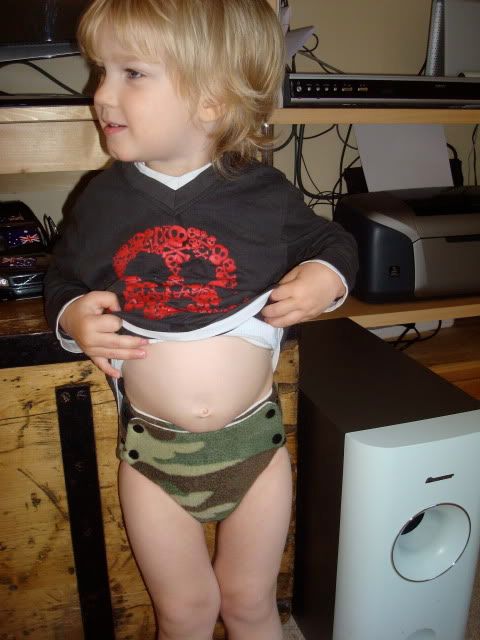 I have also been doing a bit of pattern designing, and have come up with a gorgeous little dress. I am looking for testers for sizing if there is any interest? It has an open back to show off little cloth bums in the coming summer months. I think I might change the shoulders, the ties might get in the way for a newb, so might change it to snaps or buttons.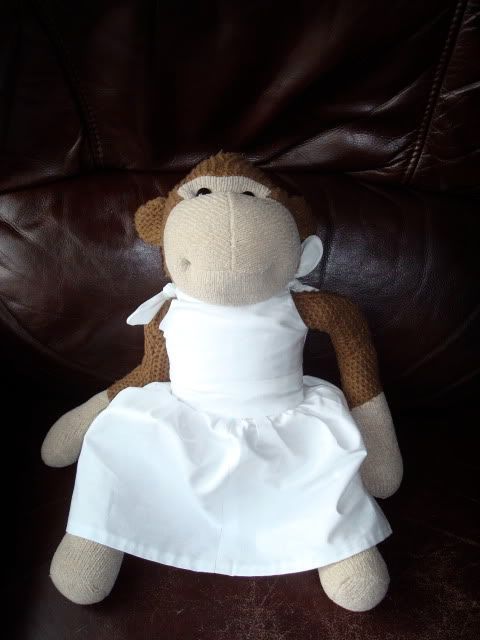 In other news, I have found out that my wheel can be sorted, so I will be sending it off to be refurbished soon - woot!!!
My diet is going all guns, I have lost 5lb in the last 4 weeks. To celebrate Dan bought me a Wii and Wii Fit. I'm ecstatic. I don't get time to do real exercise, I cant get to a gym without finding a sitter for Hudson, so this is the best alternative. I have done 2 days of it, and am loving it, it makes me feel the burn. I have set up a regime and am aiming to do 30mins a day 6 days a week. As it stands I have a long term goal of about 3 1/2 stone to loose, but obviously if a baby comes along I wont get there as quickly, but I will still hopefully loose a bit even when pregnant as long as I'm sensible.
Posted by

Knittysaurus
at 12:39
5 comments:

Wednesday, 6 May 2009
Its been package crazy here the last few days. I have received numerous parcels of fabric, and a lovely knit from the MM swap.

I bought a
sewing machine
last week off
ebay
, its kitsch, quirky, and in absolutely brand spanking new condition, all for £30 -
bargainous
. No picture of it as yet though, it's still at mums. I let her keep hold of it to get it all oiled up for me and have a little play, she said its wonderful and will last me the next 50 years!! Lets hope, it's my last machine (and yes I possibly said that 2 machines ago, but I'm a bit addicted). I cant wait to get it going this weekend and sew up a storm!
My sister is suddenly my new best friend... check out what she found for me...
HELL YES!!!! my very own spinning wheel. Yes I know its in bad shape and missing the
flyer
etc, but, it was a bargain, and I am on the hunt for a
flyer
/maidens to fit it as I type. Excitement
muchly
.
I've started buying newbie cloth. Perhaps a bad idea, but another bargain (
haha
I'm full of them this week) and once I do get
UTD
I wont need to spend so much on nappies will I. They are SO teeny, look at it next to
Hudsons
massive nappy (and my face reflecting in the glass
haha
).
Finally here are some knits I've done over the last couple of weeks, the poncho is for the MM swap, and the
soaker
is just a play knit I did, its lovely, so small and squishy. Got to love newborn fluff!!
I went away at the weekend, with Dan,
Huds
and my parents. It was lovely. I spent 5 entire days with Dan which was lovely, although I was hormonal and stroppy the entire time, I did secretly enjoy being with him. I am on a diet, and honestly, it nearly killed me this weekend, everywhere I looked there was cake. But I was good, I didn't cheat once, and I feel very proud of myself for it. I'm determined to loose some weight this summer, and try get into shape for the next baby, I don't want to be a scummy mummy, I don't even want to be a yummy mummy (I
despise
that phrase), I just want to be a normal weight range almost verging on pretty woman who happens to have a kid... one day, one day.
I also REALLY want to go to the cinema and see
Let The Right One In
it looks amazing.
Posted by

Knittysaurus
at 14:49
5 comments: